Hi, My Lovely Visitors!
I believe that my today's post will interest mostly those of you with couperose skin. I've read recently that this skin type is getting more and more common, especially among women. Some of you may hope that with age the problem of hyper-sensitive couperose skin will be less thorny, just like the problem of acne that vanishes as we get older. But in the case of couperose skin, unfortunately, it gets even worse with time. Luckily for you, I managed to find five soothing anti-redness face serums that have many benefits for couperose skin. You'll find the complete list below, but before giving you the names of the products, first let's focus on the following aspect…
What's couperose skin?
For a start, let's analyze the most characteristic and distinguishing features of couperose skin. This will help you understand whether your skin is couperose or just sensitive. So, here is how you can recognize couperose skin:
is thinner than normal skin
develops a reaction to almost everything it's in contact with
is prone to facial redness
is easily-irritated
has spider veins (broken capillaries)
There is no other way to take good care of couperose skin than treating it with the dedicated skincare products. Gels, facial toners, cleansers, even foundations – every single cosmetic you put on the hyper-reactive skin MUST BE destined for it. And the best at soothing and alleviating all symptoms of irritation is a face serum. This cosmetic absorbs deeply into the skin, targeting weak capillaries and other common concerns, and deals with them from within. In most cases, an anti-redness face serum is able to improve the appearance of skin and calms it down shortly after being put on.
Now, when you're sure what couperose skin is, let us move on to the most interesting part, which is the list of my 5 best anti-redness serums.
5 Best Anti-Redness Serums
#1: Nanoil, Anti-Redness Face Serum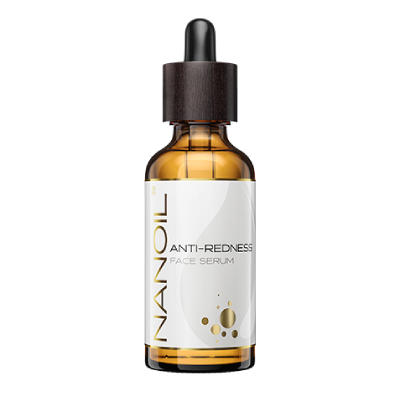 I can tell you completely honestly that this serum proved itself to be the best for my skin. It freed me from one of the problems that I really hated – the spider veins. And I know that I owed this effect to the formula, which is surprisingly short! Four plant extracts: linden, cypress, horse chestnut and Punarnava bring almost instant relief, handle inflammation and leave skin stronger. Furthermore, you can expect Nanoil Anti-Redness Face Serum to prevent signs of aging and erase some of the fine lines from the forehead – at least that's what I noticed on myself. The most important thing, however, is that it seals weak blood vessels. Why does it matter? Because this is how you deal with spider veins and redness. This much can be found in a 1.69 fl. oz bottle of Nanoil soothing serum. Since the amount of the serum is large, I apply it both in the morning and in the evening. My skin has no problems with soaking the serum up completely, which takes just a couple of seconds.
Learn more- www.nanoil.co.uk
#2: COSRX, Pure Fit Cica Serum
Here's a treat for those of you who are enthusiasts of Korean-style skin care. Cosrx, one of the top Korean brands, launched Pure Fit Cica Serum that works wonders on couperose skin. Available in a one-ounce bottle, this serum offers a three-month soothing treatment for reactive complexion. Is it expensive? I don't think so. If you asked me what I like most about this product, I'd say the instant feeling of relief that it brings the moment it touches the skin. For this particular reason, I like using Pure Fit Cica Serum at bedtime – it feels so good to apply it on the face after having a long day at work. But I'm sure you can also use it in the morning because it absorbs quickly. As for the components, let me draw your attention to Pennywort extract. It's responsible for reducing inflammation and minimizing the appearance of spider veins. Although I had to wait to see these effects, I don't really mind it. The last piece of information is that Pure Fit Cica Serum can be used as a moisturizer too.
#3: Medik8, Calmwise Serum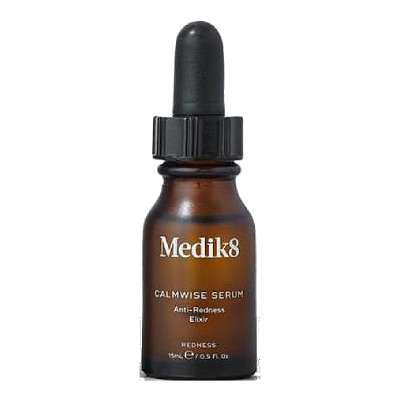 Now something for those of you who still struggle with acne (rosacea) despite being an adult. Even though I don't think I had this problem, I could spot a breakout appearing on my face from time to time. When I was using Medik8 Calmwise Serum regularly, my skin was beautifully even and clear. I believe this effect is brought out by sage extract that is known for having antibacterial properties. It's also good at soothing various types of inflammation. Another ingredient called teprenone (which actually is patented) is added to the formula to alleviate the problem of enlarged blood vessels. It's even said to prevent erythema. Generally speaking, this serum is great but it has one quite considerable downside: it runs out very quickly. There is only 0.5 fl. oz and the price is pretty high.
#4: PAI, Instant Calm Aster Maritime & Avoine Byzantine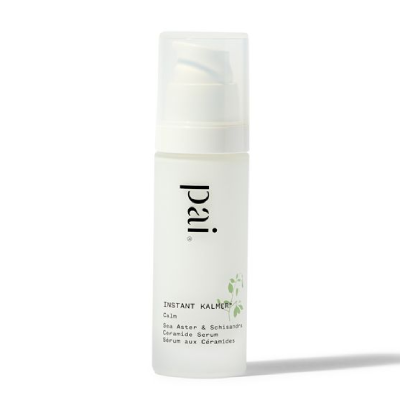 If your skin is hyper-reactive, I think this serum may be your go-to. The formula is super gentle, developed to bring instant relief to irritated skin. Additionally, it's lightweight and doesn't need much time to absorb into the skin. Interestingly, Instant Calm Aster Maritime & Avoine Byzantine doesn't have a dropper as most face serums. Instead, it comes with a pump, which some people like, others hate because this form of applicator doesn't allow you to measure the exact amount of the serum you really need to put on. When it comes to the key ingredients, I'd mention wild oat and sea astra extracts – this is how the serum deals with irritation and inflammation so well. I can't say that PAI serum delivers instant results. However, once it starts fixing the problems, skin looks gorgeous.
#5: La Roche Posay, Rosaliac AR Intense Serum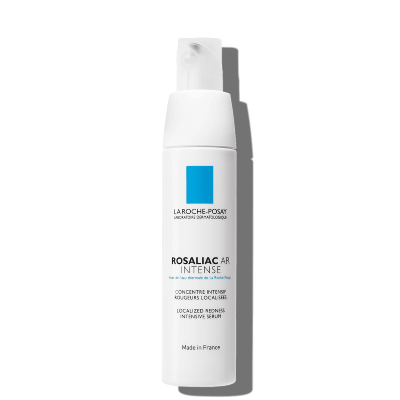 A low price and big size were two major reasons that made me buy this widely-recognizable La Roche Posay Rosaliac AR Intense Serum. When I came home with this serum and wanted to apply it on my face, I couldn't believe that I actually bought a gel. My skin clearly has problems with soaking it up fully, which is why I prefer to apply it at bedtime, to remove the residues in the morning. Nevertheless, this serum relaxes my skin, leaving me with a pleasant cooling feeling. Big plus for a short formula that has no fragrances and no colorants. I also like the idea of using thermal water as the base carrier for the active ingredients. Even though La Roche Posay Rosaliac AR Intense Serum has many positive things, I don't consider it as my main ally in fighting off facial redness.
5 best anti-redness serums: Summary
These are all face serums that helped or still help my capillary skin. I know that finding skincare products that are gentle on hyper-reactive skin is a quite challenging task but I truly believe that now, after reading my ranking, you'll choose the serum that not only soothes irritation but also gives you an even-toned and clear complexion.
I'm curious how you care for couperose and hyper-reactive skin. It would be great if you left some tips in the comments section below.